Who we are
Meet the Doctors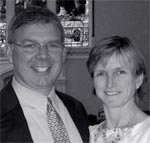 Dr. Deanna O'Dwyer and Dr. David Swensen have been serving the families of Melrose and the surrounding communities since 1991. Both received their undergraduate degree (B.S) from the University of Massachusetts at Amherst, Dr. O'Dwyer in Animal Science, and Dr. Swensen in Exercise Science. They
received their Doctor of Chiropractic degree from the Los Angeles College of Chiropractic, and continue to pursue lifelong learning in their fields.

Dr. O'Dwyer has attended extensive postdoctoral studies in chiropractic Neurology, Sports Injury, Pediatrics, Orthopedics. She is certified in Webster Technique. She also practices veterinary orthopedic manipulation (VOM) and equine and canine chiropractic. Dr. O'Dwyer is also a certified spinning instructor.

Dr. Swensen has taken extensive training in sports injuries. He is a fellow of the Academy of Chiropractic Orthopedics (FACO), and a strength and conditioning specialist. He is certified in selective Functional Movement Assessment (sFMA). He is also a ASCA Level II swimming coach and has been a contributor to Splash magazine (USA Swimming's membership Magazine).

Both doctors are active in community service in a variety of organizations, including: Rotary International, YMCA, Melrose Chamber of Commerce, New England Marathon Swimming Association, North Shore Chiropractic Society, and American College of Chiropractic Orthopedists.
Meet the Massage Therapist
Jennifer Murphy, LMT
Email:
I offer affordable, tailored and specialty massages for seniors and women to loosen tight muscles and joints, relax the mind, and rejuvenate the spirit. My prices are low and I do not accept tips because I want my clientele to get their money's worth and be able to afford to come back. Our bodies are a work in progress and it's never too late. I offer full 30 minute massages for $25. I accept credit cards, checks, and cash and offer a free massage after your first 5 sessions. Gift certficates available.
Jennifer is a graduate of Lincoln Technical Institute for Massage Therapy and is also Certified in Massage for the Aging through the Day Break Geriatric Massage Institute. Jen is currently enrolled in Carole Osborn's BodyTherapy Education certification course for Pre- & Perinatal Massage Therapy and will be offering this specialty in October. Jen is licensed in the State of Massachusetts and insured with the American Massage Therapy Association (AMTA).
Massage not only feels good, it is beneficial for your body. Massage is effective in relieving muscle pain, joint stiffness, lower back ache, poor blood circulation, mental stress, sleeplessness and similar problems prevalent in people's lives. Even if you are not in pain, keeping your muscles and joints limber and circulating the blood is preventive maintenance for your body. Massage can have relaxing, yet stimulating effects on the nervous system. Massage generally causes a calming, relaxing feeling but it also stimulates the receptors of the skin and underlying tissue allowing the body to more easily transmit signals to and from your brain. Simply put, massage helps the body function properly.